So, this weekend, "No Strings Attached" took #1 at the box office. Apparently, this will not be Natalie Portman's "Norbit". For this I am grateful. After watching "Black Swan" (in which she kicked major ass) I am really hoping for a win from her. I was not turned off at all by her Golden Globes acceptance speech. I thought she seemed nerdy and ..kind of… normal? Maybe? No? Just me? Oh well.. Ashton Kutcher though.. why? Why did people go see this movie? I agree with Richard Lawson over at Gawker.com. Why are people continuing to see his movies? This will only continue to give him lead roles in stupid romantic comedies. I use that term loosely. Okay. I liked 'What Happens in Vegas' but I give the credit to Cameron Diaz. So. Why Ashton? (And does anyone ACTUALLY believe he didn't cheat on Demi?? )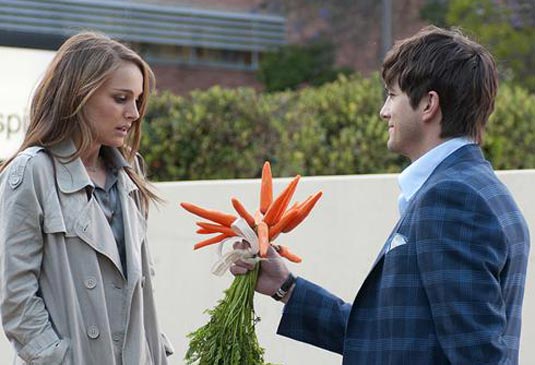 Number 2, I am reserving judgment on because I have a soft spot in my heart for Seth Rogen. So I am actually looking forward to seeing "The Green Hornet"…on DVD. Not a theatre film for me.. but… go get 'em, Seth. "The Dilemma"… Hmm… I don't know. I like some Vince, but I haven't liked much of his new movies in awhile. "Wedding Crashers" or "Dodgeball" were the last ones that made me laugh. A lot.
The rest of the top ten, aside from "Yogi Bear" (ugh REALLY?), seems to be comprised of what seems to be some good flicks "True Grit", "The Kings Speech" both of which are expected to get some nods tomorrow. "The Way Back" looks promising starring Colin Farrell and Jim Sturgess and "The Company Men" which stars Chris Cooper and Ben Affleck and some other old people.
Tomorrow the Oscar nom's are announced at the crack of dawn in California. I am seriously stoked about this. Expect a large post about predictions that are most likely entirely wrong.